Bell Formwork News
November 2018
Bell Formwork & Civil Engineering Services Ltd are proud to announce, along with Tier 2 partners RG Carters & Claret Civil Engineering, won the Anglian Water Small to Medium Enterprise of the year at the recent Anglian Water Supplier award. This is a fantastic achievement and testament to the hard work put in by all our employees working on Anglian Water sites.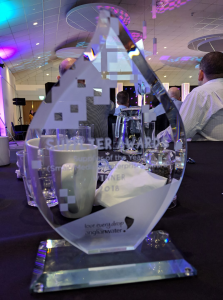 ---
October 2016
We have been awarded 2 major projects this month. The first is for a new new client, RMP from Norwich, where we have been engaged to construct an elevated RC podium for a large development at St Anne's Wharf in the centre of Norwich. The second is a biomass plant in Boston for Galliford Try. Both projects start shortly and are due to run into the New Year. Since our last news update we have been awarded and started a large civils project under our Tier 2 Civils Framework with Anglian Water. The scheme is a cake reception facility at Kings Lynn STW and involves a number of large RC foundations, drainage and ducting.
---
May 2016
We are pleased to announce that Scott Holmes will be joining our team from 3rd May 2016 as our Senior Quantity Surveyor, we wish Scott every success for the future.
In addition we can confirm that we have recently been awarded the following major projects;
Norwich NDR for Balfour Beatty which involves the construction of 8 bridges along with other associated structures over the next 2 years.
Lowestoft STW for Anglian Water @ONE Alliance which involves the full civil engineering scope to install a new circular 30m diameter precast final settlement tank.
Rugby Radio Station for Jackson Civil Engineering which involves the construction of a number of retaining walls to PC culverts associated with environmental enhancements on a new housing development.
---
April 2016
This year Bell Formwork will be supporting the Anglian Water Water Aid 2016 ball which is being held on Saturday 30th April 2016 in Milton Keynes. Bell Formwork are proud to be sponsoring this event and helping a very worthy charity in WaterAid.
---
December 2015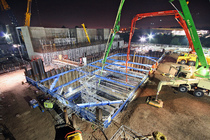 This picture is from our ongoing project in Derby, where we are constructing a large energy from waste plant for Interserve. The picture shows a pour on the Reception pit base slab which is formed 12m below ground level and contains over 1000m3 of concrete and more than 150t of reinforcement. The reception pit has 12m high insitu concrete walls and in the back ground you can see the RDF structure which also has insitu concrete walls being constructed at 12m high. The works are ongoing with completion of the main concrete structures expected in early 2016.
---
October 2015
We have been formally awarded the subcontract package to construct a new precast concrete service reservoir at Oswestry WTW on behalf of Carlow Precast. The project starts on Monday 19th October 2015 and will run for around 30 weeks. As part of our @ONE Alliance framework agreement we have been awarded schemes at Isleham WTW and we recently completed an Orthophosphoric dosing scheme at Kirby Cane WTW where we were involved in trialling a 'Cemfree' concrete mix for the dosing unit foundation slab.
---
September 2015
We are pleased to announce that we have formally been appointed as a Tier 2 Civil Engineering Framework Subcontractor for Anglian Water's @ONE Alliance. This appointment gives us access to 5 years work for the @ONE Alliance and the agreement could be extended for upto 15 years. The framework is for all civil engineering related activities including excavation, underground pipework, ductwork, Manholes as well as formwork, rebar and concreting for major structures.
---
August 2015
August has been another busy month here at Bell Formwork and we have started on two new major projects in the Anglian Water Region. The first is the installation of, the insitu concrete elements, for a new service reservoir for JN Bentley at Grafham water and the second is a major civil engineering package to construct a new water treatmenet plant at Semer WTW. Our scope at Semer includes all the pressure/gravity underground pipework, ducts/dosing lines, duct chambers, manholes and a number of concrete foundations.
---
July 2015
The major project that we were involved in at Cambridge WRC, both as the installer of the Carlow precast concrete structures and completion of the civils installation package, won two Awards at the 2015 Annual Anglian Water 'We Love What You Do Awards'. The @ONE Alliance WRNI Cambridge WRC team won the "Supplier zero waste right first time award" and the "Best project award", congratulations to everyone who had involvement in the scheme.
---
April 2015
The Civil Engineering industry seems to be picking up slowly and we have been awarded a number of new projects in recent weeks, these schemes include Derby Energy from Waste scheme Phase 1, Rhyl sea defence, Lincoln East West link road, Felixstowe quay extension, various weighbridge schemes in the Anglian Water region, North Walsham Shell depot enhancement and a bridge on the A45 near Birmingham Airport.
---
January 2015
Happy new year to all our clients and employees. 2014 was a very busy year for Bell formwork and we are looking forward to an equally busy year in 2015 with the prospect of several good opportunities for us to expand our civils capability. We started this month a scheme to reconstruct bridge piers in Beverley and to continue a scheme we started just before Christmas helping to reconstruct a bridge over the busy M5 in Birmingham. Our major civils scheme at Cambridge STW is continuing and we have been awarded a further civils package at Cambridge. We have a number of ongoing smaller civils contracts on Anglian Water sites and also on a number of solar windfarm sites located throughout England.
---
October 2014
Since our last news item in June we have been awarded a number of different projects which include, Swaffham STW, Alford STW, Horbling STW, Tuddenham STW, Hillington WTW, Mattishall WTW and Postwick WTW. These job are currently ongoing and we have added to our management team following the appointment of Brendan Carrick as our Construction Manager who has returned after his world tour.
---
June 2014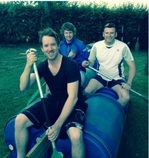 Bell Formwork attended Anglian Water's Rutland Regatta this year and came home as the 2014 raft race champions, well done to our gallant team (Jim, Wayne, Rory and Ryan). Training for the defence of our title next year begins immediately!!
In other news we have recently signed up with Carlow Precast to install a large precast concrete ASP tank, ASP Distribution chamber, 4 x 40m diameter final settlement tanks and an FST distribution chamber at Cambridge STW. The works start at the end of June and are scheduled to run for 26 weeks.
---
May 2014
We have been going through an extremely busy period, both in tendering and with ongoing contracts. Since our last news bulletin we have been awarded a full civils scope SEMD scheme at Covenham WTW, a precast concrete treatment plant for Flag Fen, a SEESA substation scheme at Willsden (North London), a precast concrete reservoir near Ludlow, a concrete lining project for Dawnus at Llangollen wwtw in Wales and further works associated with the GNGE rail project. Congratulations to Nick Burpitt and Mark Hughes for passing their CPCS Crane Supervisor exams and well done to Duncan Keeling who is our first qualified PTS track safety member of staff.
---
February 2014
We have started various new contracts this year including works at Lowestoft where we are constructing precast concrete harbour units, Kingstone and Madley STW which involves the construction of a new Humus tank, PST tank and inlet works. We have recently been awarded three new Contracts, these are at Llanrug STW(North Wales), Ormesby WTW (Norfolk) and Ellough Solar Windfarm (Suffolk).