Formwork fabrication / storage facility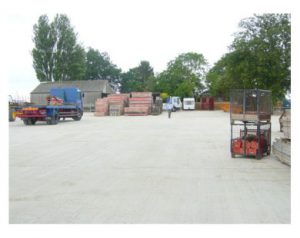 At our 5000m2 formwork fabrication / storage facility in South Lincolnshire we are able to prepare formwork panels in a safe, secure and controlled environment away from the often tight constraints of a working site.
Our in-house Temporary Works Manager/Designer is based at the yard to ensure formwork panels are constructed to the correct standards and dimensions so that when delivered to site the equipment can be put to work immediately with only minimal site fabrication work being required. In order to co-ordinate formwork equipment deliveries etc. we employ a full time yard manager who ensures that all equipment, after return, is cleaned and serviced ready for the next project.
Due to this in-house capability and the fact we own so much of our own equipment we are able to rapidly respond to changing situations on projects, thus minimising the potential for unnecessary delays waiting for external hire companies to react. This level of service is what sets Bell Formwork apart from many of our competitors.
We are also capable of producing precast concrete elements at our yard and have done so on a number of occasions for clients where the need has arisen.